TRANSFORMERS: DARK OF THE MOON's New Girl Rosie Huntington-Whiteley Is Maxim's Latest #1 Hottie!
2011 HOT 100
The Definitive List of the World's Most Beautiful Women
(June Issue available exclusively in iTunes and on Newsstands Nationwide, May 10)
#1 ROSIE HUNTINGTON-WHITELEY
Transformers: Dark of the Moon
THE TOP TEN: Olivia Munn, Katy Perry, Cameron Diaz, Mila Kunis, Bar Refaeli, Anne Hathaway, Natalie Portman, Cobie Smulders and
Jennifer Lawrence
Plus, 90 More of the Most Wanted Women in the World
Over the last 365 days, the editors of Maxim have spent as many hours poring over thousands of photographs to select the world's most beautiful women who are equally as talented to present the 11
th
annual Hot 100—the definitive list of the world's most beautiful women…
Topping the list this year are six models, seven artists from three musical genres, six stars of the ring, three Mad [wo] Men, one Kardashian, one Princess, one Russian spy and one number one: 
Rosie Huntington-Whiteley,
star of Transformers: Dark of the Moon.  Huntingon-Whiteley tells Maxim that being named number one "is a huge honor.  It's a great title to have for a year and you can have some fun with it, I think." Maxim Editor in Chief, Joe Levy said, "Rosie is a true transformer – a VS stunner who is about to go supernova when she takes over for Megan Fox in the Transformers franchise – her talent is as undeniable as her beauty, which is pretty jaw-droppingly undeniable." Levy is available to discuss this year's list from NYC;
Maxim
West Coast Editor, Ruth Hilton, is available from LA.  Maxim's Hot 100 is on sale with the June issue now, exclusively in iTunes (
http://itunes.apple.com/us/app/maxim-hd/id391622375?mt=8
), and on sale nationwide on Tuesday, May 10.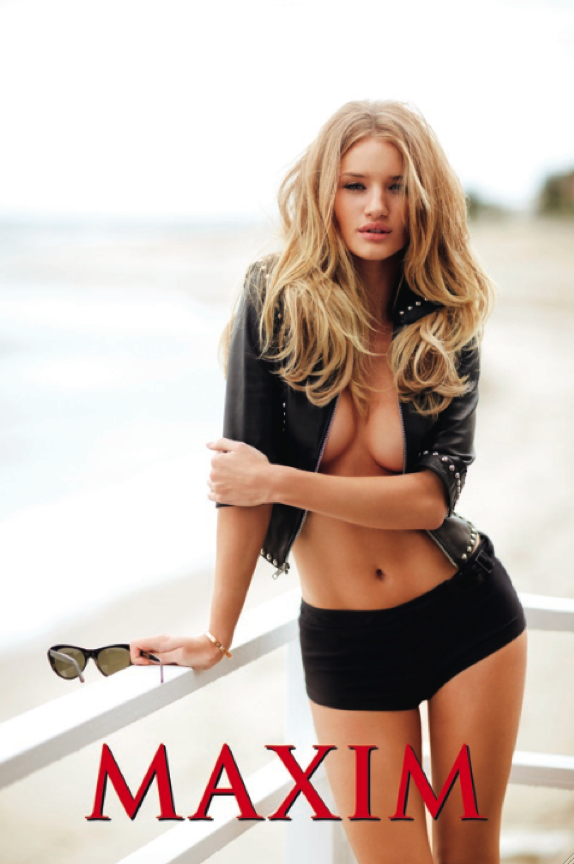 Rosie Huntington-Whiteley: "All hail Maxim's new queen! When we first heard rumblings of a Megan Fox replacement in Transformers: Dark of the Moon, we wept into our Optimus Prime pillows for weeks. As it turns out, director Michael Bay found someone even foxier."
Olivia Munn: "This has been a big year for Miss Munn: The Attack of the Show! geek turned into a satire goddess on The Daily Show and jumped to her highest Hot 100 position yet."
Katy Perry: "It sure is nice to see the California Gurl has remained as humble as she is hot since she first caught our attention by kissing girls and shooting whipped cream and fireworks from her, er, heart."
Cameron Diaz:  "A French-fry-eating, big-wave surfing former model who's done her fair share of serious ass kicking and bootie shaking on film, she's almost too good to be true. Thankfully, she's real."
Mila Kunis: "Who'd have guessed that she'd grow up to be the hottest former cast member of That '70s Show?"
Bar Refaeli:  "The Israeli supermodel and June birthday girl recently picked up her first film role in the thriller Session, playing a psych patient whose doctor becomes obsessed with her… Here's hoping that her future big-screen roles will require a wardrobe she's more familiar with: bikinis…and maybe some body paint."
Anne Hathaway:  "If anyone deserves a spot on the upper echelons of this list, it's Anne, who's made escorting our girlfriends to chick flicks almost bearable for an entire decade."
Natalie Portman: "If we'd known that the newly crowned Oscar winner would end up with a ballet dancer, we would've seriously reevaluated our high school extracurricular activities."
Cobie Smulders:  "For the past five years, the Canadian cutie has had us laughing our pants off as ex-teen pop star Robin on How I Met Your Mother. Last Christmas…Cobie rewarded us with the greatest gift of all: stripping down for our December cover."
Jennifer Lawerence: "The heart of a guy's girl in the body of a girly girl? Yup, that's more than enough reason to justify her straight-out-of-nowhere jump to the top 10 and her imminent Hollywood takeover."
FULL LIST
11. Jordana Brewster 12.  January Jones 13. Kaley Cuoco 14. Scarlett Johansson 15. Olivia Wilde 16. Leighton Meester 17. Megan Fox 18. Eva Mendes 19. Anna Kournikova 20.  Taylor Swift 21. Jessica Alba 22.  Rihanna 23.  Brittany Snow 24.  Sarah Shahi 25.  Britney Spears 26.  Kate Middleton 27. Michelle Trachtenberg 28.  Lea Michele 29. Sofía Vergara 30. Amanda Bynes 31.  Evan Rachel Wood 32. Emmy Rossum 33.  Dania Ramirez 34.  Avril Lavigne 35.  Kim Kardashian 36. Brooklyn Decker 37.  Zoë
Saldana  38.  Lindsay Lohan 29.  Rebecca Mader 40.  Hilary Duff 41.  Jaimie Alexander 42.  Emma Stone 43.  Naya Rivera 44.  Anna Faris 45. Emmanuelle Chriqui 46.  Beau Garrett 47.  Odette Annable 48.  Julianne Hough 49.  Alison Brie 50.  Selita Ebanks 51.  Nicole Scherzinger 52.  Minka Kelly 53. Ashley Greene 54. Vanessa Hudgens 55.  Joanna Krupa 56.  Christina Hendricks 57.  Audrina Patridge 58.  Christina Aguilera 59. Grace Park 60.  Kelly Brook 61.  Eva Amurri 62.  Whitney Port 63.  Ana De La Reguera 64.  Miley Cyrus 65.  Elisha Cuthbert 66. Aly Michalka 67. Ciara 68.  Anna Paquin 69.  Emma Watson 70.  Arianny Celeste 71.  Taylor Cole 72.  Stacy Keibler 73. Jamie Chung 74.  Laura Vandervoort 75.  Nicki Minaj 76.  Diora Baird 77. Anna Chapman 78.  JWoww 79.  Mini Anden 80.  Danica McKellar 81.  Gabrielle Union 82.  Kelly Kelly 83.  Carly Craig 84.  Paz De La Huerta 85.  Rachelle Leah 86.  Autumn Reeser 87.  Emmanuelle Vaugier 88.  Daniela Ruah 89.  Lyndsy Fonseca 90.  Lauren Storm 91.  Erin Andrews 92.  Nicky Whelan 93.  Kelli Hutcherson 94.  Alessandra Torresani 95.  Serinda Swan 96.  Sophie Monk 97.  Hope Dworaczyk 98.  Camilla Belle 99.  Candace Bailey 100.  Melanie Iglesias
Tags: Rosie Huntington-Whiteley
Trackback from your site.